MODULAR LAB CABINET PHILOSOPHY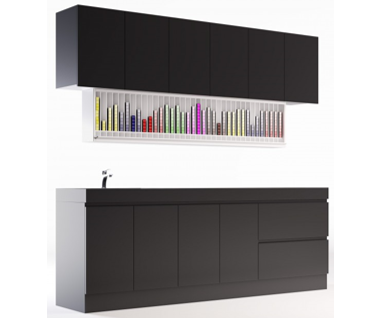 MODULAR LAB CABINET PHILOSOPHY
Set 3 pieces Labo Furniture Philosophy black wood decor & Color Bar white - harmonious and functional set in the operations Techniques to realize every day for the customers to the space shampoo. Base cabinet: Black melamine with skirting overhangs, 4 opening doors with adjustable shelves on cleats, 2 large storage drawers. Worktop made of laminate, equipped with a stainless steel sink with bench on the right and its faucet (Fittings and connection to be done by your installer) 2000 x 550 x 930 cm, 3 high cabinets: black melamine, each including 2 opening doors, 1 adjustable shelf cleats 2000 x 400 x 520 cm, To fix on the wall, screws to provide By your installer according to the nature of the existing walls. Color Bar white: White melamine to fix on the wall. Storage space of your color tubes, adjustment of the intervals of the tubes 1730 x 450 x 22 cm, By separators white, depending on the size of your color tubes. Screws to be supplied by your installer according to the nature of the walls to ensure a good stability of the wall furniture.
CLICK HERE TO SEE THE REST OF THE PHILOSOPHY PRODUCT COLLECTION
Available with various customisation options. Please get in touch to discuss your requirements.
FINANCE - We also can also offer lease finance options on any furniture, and there are various discounts available as well - so call us on +44 (0) 7785 254 824 to see what we can do for you.